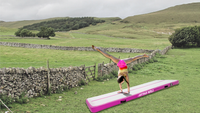 AIRTRACK WORLD
One of the largest suppliers of Airtracks to Gymnastic Clubs, gymnasts, acrobats and cheerleaders across the UK and Europe.
Designed by Elite level gymnasts and manufactured from premium quality materials ensuring they are some of the best in the Airtrack World!
Available in 20cm deep (Elite Tracks) for more spring and bounce or in 10cm deep (Development Tracks).